Realme C20, Realme C21 & Realme C25 Launched in India; Check Prices, Features, Variants & Specifications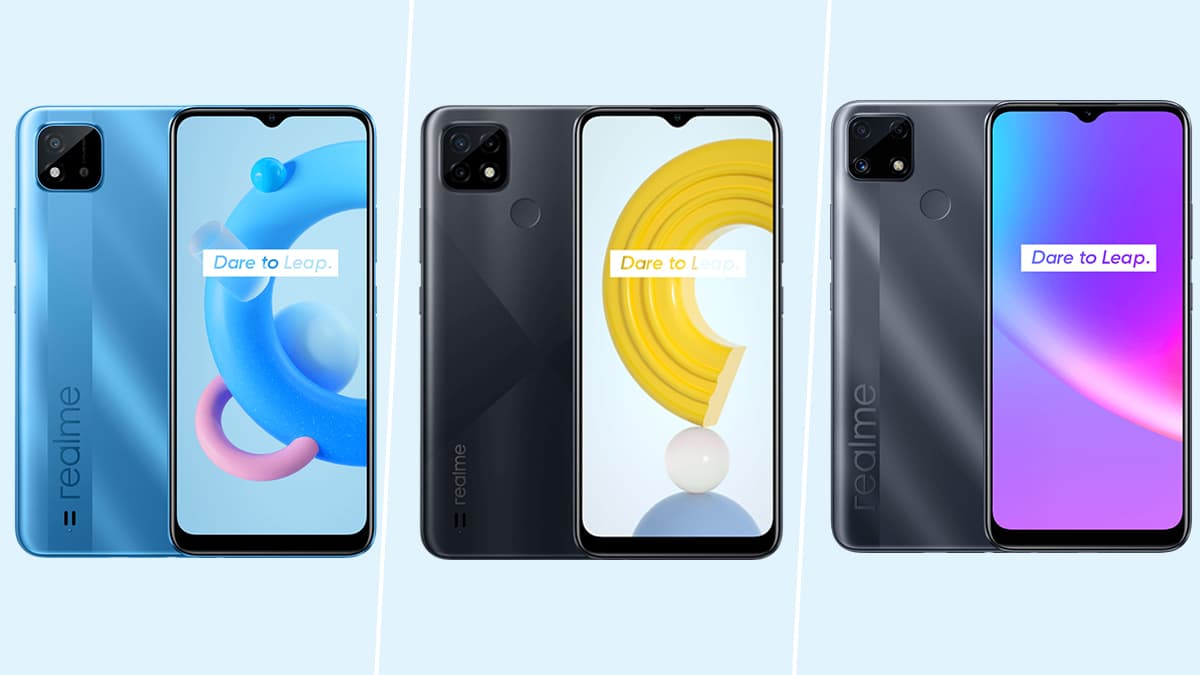 Realme, the Chinese smartphone maker officially launched the Realme C Series in the Indian market. Realme C Series comprises Realme C20, Realme C21 and Realme C25 smartphones. Realme C20 and Realme C21 phones will be available for sale on April 13 and April 14, 2021 respectively at 12 noon via Flipkart. On the other hand, Realme C25 will go on sale on April 16, 2021 at 12 noon via Flipkart. Realme C20, Realme C21 & Realme C25 Launching Today in India, Watch LIVE Streaming of Realme C Series Launch Event Here.
In terms of specifications, Realme C25 sports a 6.5-inch IPS LCD HD+ mini drop display with a resolution of 1600×720 pixels. It comes powered by MediaTek Helio G70 SoC coupled with 4GB of RAM and up to 128GB of internal storage.
Realme C21 (Photo Credits: Realme Malaysia)
Meet #realmeC25

👉6000mAh Battery

👉MediaTek Helio G70 Gaming Processor

👉18W Quick Charge

& more!

Available in:

👉4GB+64GB, ₹9,999

👉4GB+128GB, ₹10,999

1st sale at 12 PM, 16th April on https://t.co/HrgDJTZcxv & @Flipkart.#EntertainmentKaTripleDhamaka #realmeCseries pic.twitter.com/AkSW5owvLK

— realme (@realmeIndia) April 8, 2021
For optics, the device comes equipped with a triple rear camera setup comprising a 48MP main camera, a 2MP macro snapper, a 2MP B&W lens. At the front, there is an 8MP shooter for selfies and video calls. The phone comes packed with a 6,000mAh battery with 18W fast and reverse charging support.
Realme C20 Smartphone (Photo Credits: Realme China)
Realme C20 & Realme C21 feature a 6.5-inch IPS LCD HD+ display with a resolution of 1600×720 pixels. Both phones come powered by a MediaTek Helio G35 gaming processor. For photography, the Realme C21 gets a 13MP primary camera, a 2MP macro lens, a 2MP B&W lens. On the other hand, Realme C20 flaunts a single 8MP AI snapper. Both devices feature a 5MP AI Selfie shooter.
Realme C25 (Photo Credits: Realme India)
Realme C20 and Realme C21 are fuelled by a 5,000mAh battery with a reverse charging facility. Coming to the pricing, Realme C2o is priced at Rs 6,799 for the sole 2GB + 32GB model. Realme C21 costs Rs 7,999 for the 3GB + 32GB variant whereas the 4GB + 64GB model gets a price tag of Rs 8,999. On the other side, Realme C25 is priced at Rs 9,999 for the 4GB + 64GB variant and Rs 10,999 for the 4GB + 128GB model.
(The above story first appeared on Onhike on Apr 08, 2021 01:47 PM IST. For more news and updates on politics, world, sports, entertainment and lifestyle, log on to our website onhike.com).
} });
Bragg Gaming Group: Leading the iGaming Industry Forward
iGaming – or internet gambling – has seen a rapid evolution in recent years thanks to a combination of progress in technology and legalization. The iGaming industry has now progressed to include a diverse range of casino games (roulette, slot machines, poker, sports betting, bingo etc.) With innovation at new heights, iGaming companies worldwide have been fundamentally changing the dynamics of how they operate. One of the companies leading this new wave is Bragg Gaming Group (TSX:BRAG, OTC: BRGGF).
About Bragg Gaming Group
Bragg Gaming Group has established itself as one of the most exciting iGaming companies this year, offering a turnkey solution for retail, online, and mobile gaming via its digital platform. This plug and play business model has allowed Bragg the unique ability to scale faster than the competition.
In just two years, Bragg has recorded an exponential increase in its customer base, which saw growth of 300%, while also recording full-year revenue growth of 74.6% year over year. While expansion can often come at the cost of outgrowing some clients, this has clearly not been the case for Bragg which hasn't lost a customer in over five years.
"We've made extraordinary progress in 2020 and are very pleased with the substantial revenue and EBITDA growth that we've delivered," said Adam Arviv, Interim Chief Executive Officer of Bragg. "We continue to expand globally, enhancing our content portfolio and technology offering, and securing new customers across key geographies."
One of the key drivers of Bragg's performance has been its technology and partnerships. Bragg expanded into new markets this year, with its sights set on conquering the US, Canada, and Latin America. Recently, they announced additional expansions into Croatia, Germany, and a partnership Grand Casino Luzern, the largest Swiss casino operator.
"Switzerland is a very exciting young market and we are pleased to take our content live with Grand Casino Luzern," said Matevž Mazij, Managing Director of ORYX Gaming. "This marks the beginning of our venture in Switzerland, and we couldn't have chosen a better partner than the leading operator in the market. We look forward to further establishing our presence in the country and providing players with our premium content"
Bragg Gaming's growth strategy focuses on acquisitions, partnerships, and organic growth. This led them to acquire Oryx in 2018, which proved to be a masterstroke in helping them lay a solid foundation across the globe. With clients including Jackpot JoyPlc and GVC Holdings, Bragg Gaming and Oryx have solidified their presence in the global iGaming industry.
eBook Writing Hub – Why a First Choice of an Audience?
What is eBook Writing Hub?
In the busy schedule of our daily lives, it becomes difficult for individuals with an interest in writing to keep up a grip and publish notable content. eBook Writing Hub offers an upright solution to this matter; they offer a premium and widely recognized writing resource assisting individuals in publishing ebooks of all sorts.
Why Choose eBook Writing Hub?
eBook Writing Hub has fought its way through becoming the popular choice of audience. Unlike other brands, eBook Writing Hub offers a wider range of writing resources brought to its customers by a very hard working and devoting team of ghostwriters.
Among other brands, eBook Writing Hub caters to its customer's writing needs in all genres varying from fiction, non-fiction, informative, biography, memoir, autobiography, children books, and many more. eBook Writing Hub's content production can help its customers reach out to readers from all age groups; this is why 63% of the audience choose their writing services with blind trust.
Nominated As the Best-Ghostwriting Company
In this century, content production is not limited to writing only; rather, it also influences book marketing strategies where smart video and audio production is much needed. Since 2016 eBook Writing Hub is working hard to understand its customer's needs and help them publish and market their content through an enthusiastic marketing team. They assist their customers through video book trailers, audio books, cover page designs and creative presentation of authors' website. eBook Writing Hub leads a tough competition for all other brands; they were nominated as the best-ghostwriting company in 2018 and 2020 for their great efforts in helping individuals with writing needs.
What Services eBook Writing Hub Offer?
The experienced ghostwriter and authors at eBook Writing Hub deliver the best quality content on the promised deadline. Their services cover a broader range and meet customers' requirements, from ghostwriting to publicizing ebook to cover designs to audiovideo presentations. The multiple services offered at eBook Writing Hub include the following:
Ghostwriting:
The ghostwriting team at eBook Writing Hub can help individuals in converting their ideas into a published book. They can transform a fictional imagination or simply an idea into a published book. Their team strives on delivering quality content to every customer with complete anonymity.
Proof Reading & Book Editing
eBook Writing Hub understands that book writing can be an exhausting and hectic process; they offer all editing-related services catered by their team of professional editors and experienced authors. They offer bug-free high quality content all ready to publish,
Book Cover Design
Introducing a book into the market and reaching out to audiences is much more than preparing a well-written book. Here at eBook Writing Hub, a team of creative designers pitch in ideas and make sure that books' covers appeal to its readers.
Book Publishing 
Book writing is a combination of three prominent tasks; writing and editorial support, marketing, and publishing. eBook Writing Hub offers the whole package from writing and editorial services to the publication of a book. They attend to all needs of their customers through a team of experts.
Book Marketing
eBook Writing Hub appreciates its clients who put trust in their services; they offer cost-effective and compelling strategies to publicize books. They offer book marketing to their customers through intelligent branding and publicity strategies, attractive video books trailers, and authors' creative website development.
Google Working on 'Trash Bin' Feature for Deleting Files on Android 12: Report
San Francisco: Google is reportedly working on a feature, called Trash Bin, for deleting files on Android 12. According to XDA Developers, the spotted code suggests Google may surface Android's hidden Recycle Bin/Trash feature in Storage settings. Last year, Google rolled out Android 11 which enforced major changes to the way that apps can access a device's storage, the report said. These changes, which Google calls "Scoped Storage", significantly limit the amount of storage access an app can get by default, it added. Google To Reportedly Shut Down Its Mobile Shopping App for iOS & Android Devices by June 2021.
While certain apps like files managers can request broad access to a device's storage, other apps have to use alternative APIs to add, open, edit, or delete files on the storage. One of these APIs is called the MediaStore API and it provides access to common media files like audio, videos, and images, according to the report.
MediaStore has been around for a while now, but Google added a new feature to the API with the Android 11 release — trashing, it added. Apps using the MediaStore API can trash rather than delete a file to give users a chance to restore the file later.
The report mentioned that most desktop operating systems have a similar feature, but Android 11 itself doesn't provide a system-wide "Recycle Bin" or "Trash" folder that lists all of the files that have been trashed. Instead, apps with edit access to trashed files or that request user consent can show items from the hidden recycle bin, and we've spotted evidence that Google Files by Google app is preparing to add such a feature.
(The above story first appeared on Onhike on Apr 19, 2021 05:19 PM IST. For more news and updates on politics, world, sports, entertainment and lifestyle, log on to our website onhike.com).
//vdo (function(v,d,o,ai){ai=d.createElement('script');ai.defer=true;ai.async=true;ai.src=v.location.protocol+o;d.head.appendChild(ai);})(window, document, '//a.vdo.ai/core/latestly/vdo.ai.js');
//colombai try{ (function() { var cads = document.createElement("script"); cads.async = true; cads.type = "text/javascript"; cads.src = "https://static.clmbtech.com/ase/80185/3040/c1.js"; var node = document.getElementsByTagName("script")[0]; node.parentNode.insertBefore(cads, node); })(); }catch(e){}
} });