Meghan Markle-Prince Harry's Interview to Oprah Winfrey: How Late Princess Diana Helped After The Royal Family Cut Them Off Financially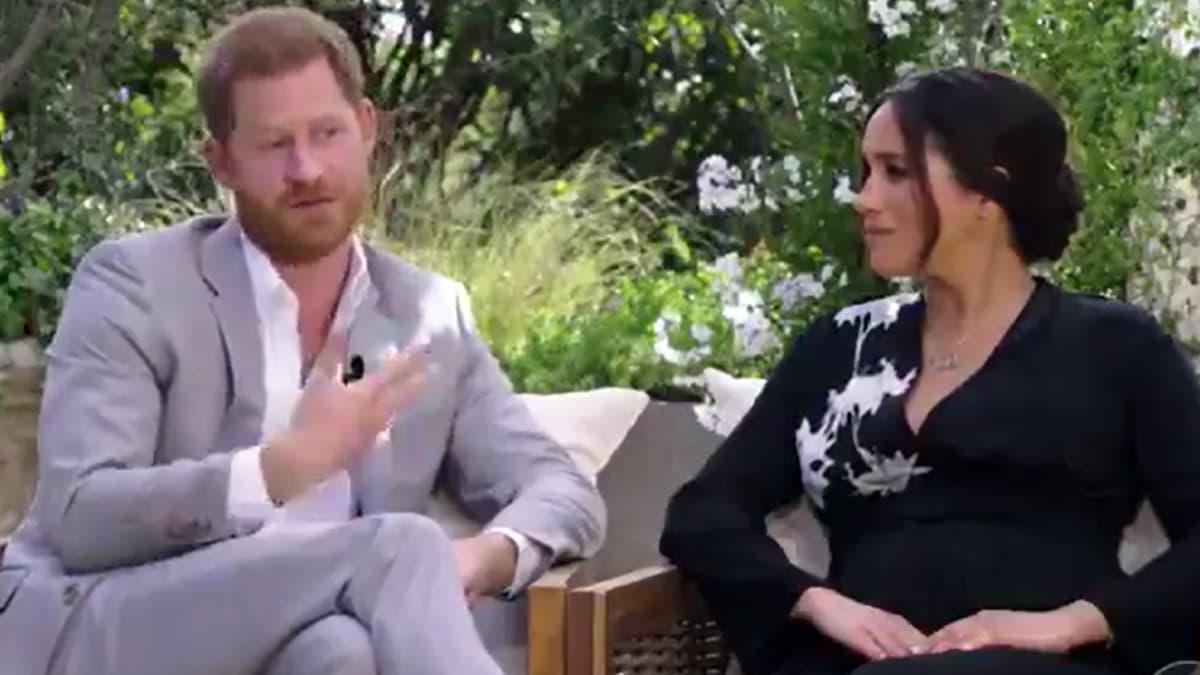 Meghan Markle and Prince Harry's interview with Oprah Winfrey has put social media on high alert. The amount of information the couple is sharing regarding their time with the Royal Family of England and what led to their exit from the monarchy are making people form a lot of opinions. Meghan admitted that the family was concerned about Archi's complexion before he was born and the fact that she had suicidal thoughts. Then came Harry and the truth bombs he shared, are exploding still. Prince Harry revealed that it was his late mother Princess Diana who came to their rescue when they were cut off financially even when she is no more. Meghan Markle-Harry-Oprah Winfrey Interview: The Duchess Of Sussex Reveals Royal Family Had Concerns About 'How Dark Archi's Skin Might Be' (Watch Video)
Harry told Winfrey, "My family literally cut me off financially in the first half of 2020 but I have what my Mum left me and without that, we wouldn't have been able to do this. It's like she saw it coming and she's been with us through this whole process". The Prince even mentioned how his mom would have reacted if she saw them quitting the family. She would be angry at first but would understand later. 
And now the money:

Harry: My family literally cut me off financially in the first quarter of 2020.

I have got what my mum left me. I think my mum saw it coming. And I felt my Mum's presence through this process.#OprahMeghanHarry

— Chris Ship (@chrisshipitv) March 8, 2021
What's making everyone's heartbreak was Prince Harry admitting he didn't want history repeating itself and he asserted he was talking about his mother.
(The above story first appeared on Onhike on Mar 08, 2021 10:22 AM IST. For more news and updates on politics, world, sports, entertainment and lifestyle, log on to our website onhike.com).
//colombai try{ (function() { var cads = document.createElement("script"); cads.async = true; cads.type = "text/javascript"; cads.src = "https://static.clmbtech.com/ase/80185/3040/c1.js"; var node = document.getElementsByTagName("script")[0]; node.parentNode.insertBefore(cads, node); })(); }catch(e){}
} });
Riyana Sukla is the Emerging Bollywood Star Whose Talent is All Set to Explode on the Silver Screen
After marking her presence in regional films, she has now set her eyes on Bollywood.
Every industry has given us gems in the past who have excelled in their respective fields and been a great source of inspiration for people who aspire to reach the position as same as theirs. There have been some names who have created such deep impact that their success stories have stayed on in the minds of people for a long time. Out of the many such fields, the entertainment industry has given us exceptionally talented individuals who have created history and their presence has inspired many enthusiasts to the core. These powerhouses of talent are found galore in the entertainment industry which has given us many dynamic personalities in the past. We have in our midst one such talented artist whose work has made heads turn and take her notice, she is the extremely confident and raring to go Riyana Sukla, who has marked her presence as a model and actor, and what's more she indeed looks promising enough to create history if industry insiders are to be believed. 
This thirty two year old beauty was born in Cuttack, Orissa, and since her early days the world of entertainment attracted her and all she wanted to do was become an actor going ahead in life. After completing her studies from the Ravenshaw University in Cuttack, she set out to set her foot in the world of television and films. Her talent was noticed and soon she landed up with some roles in regional films. Wanting to go a step ahead in her career and try her luck in the Hindi film industry she headed towards the Tinseltown of Bollywood – Mumbai, where she joined the eminent Roshan Taneja School of Acting. Soon she got her first break in Bollywood with the film 'Mr. Mba' and another one titled 'Lucknowi Ishq', both of which failed at the box office. Life took a turn, and she bagged an offer from a known banner in the Hindi film 'Life Ki Aisi Ki Taisi', where she played the lead role. That kick-started her film career, and she went on to sign an Oriya film 'Tu Achu Ta Mun Achi', which is slated to release soon. Along with some projects in the Hindi film industry which are in the pipeline, she has also signed a Bengali film which goes on the floors soon. 
With the fast pace that Riyana is marching ahead, we might soon see her topping the film industry in the near future, we can lay our bets on her!
//colombai try{ (function() { var cads = document.createElement("script"); cads.async = true; cads.type = "text/javascript"; cads.src = "https://static.clmbtech.com/ase/80185/3040/c1.js"; var node = document.getElementsByTagName("script")[0]; node.parentNode.insertBefore(cads, node); })(); }catch(e){}
} });
RIP Helen McCrory: Damian Lewis Pens Emotional Note For Late Wife, Says 'She Was Able to Turn Her Light So Brightly on Others'
Actor Damian Lewis paid a heartfelt tribute to his late wife Helen McCrory, who died last week, battling cancer. She was 52 when she breathed her last. The Billions star, honoured McCrory, who was widely known for her roles as Narcissa Malfoy in the popular Harry Potter films and Polly Gray in Peaky Blinders, in an emotional tribute written for The Sunday Times, in which he reflected on his "brilliant" wife's life, reported People magazine. Helen McCrory No More: Anupam Kher Pays Heartfelt Tribute to the Peaky Blinders Actress (Read Tweet).
"Many people have spoken about her career and many more will, so that's where I'll leave it, because it strikes me that two things are happening this weekend: an outpouring of grief and shock, and a celebration of Helen McCrory the actress from fans everywhere, and of Helen the person. And that's who I want to talk about," Lewis said of the actor. "Helen was an even more brilliant person than she was an actress," the actor continued. RIP Helen McCrory: Peaky Blinders' 5 Most Memorable Scenes Featuring the Late Actress That Show How Bad Aunt Polly Will Be Missed.
He added, "She was a people person, sure. 'I'm much more interested in who I'm with than where I am,' she would say, and innately wanted to share. But she also lived by the principle of kindness and generosity. That you put these things out into the world to make it better, to make people feel better." Lewis went on to speak on how McCrory always "spread happiness," writing, "Even when dying in her last few days, when talking to our wonderful carers, she repeatedly said, 'thank you so much' in her half delirious state."
"I've never known anyone able to enjoy life as much. Her ability to be in the present and enjoy the moment was inspirational. Nor was she interested in navel-gazing. No real interest in self-reflection; she believed in looking out, not in. Which is why she was able to turn her light so brightly on others," Lewis added. Lewis, who married McCrory in 2007, after they met on the production of 'Five Gold Rings' at London's Almeida Theatre in 2003, said the late actor has left their two children, 14-year-old daughter Manon, and 13-year-old son Gulliver, "too early, but they have been prepared for life."
"They have in them the fearlessness, wit, curiosity, talent and beauty of their mother. She has exhorted us to be courageous and not afraid," Lewis said.
He also wrote in the tribute of McCrory, "She has been utterly heroic in her illness. Funny, of course — generous, brave, uncomplaining, constantly reminding us all of how lucky we've been, how blessed we are. Her generosity has extended to encouraging us three to live. Live fully, take opportunities, have adventures."
"Already I miss her. She has shone more brightly in the last months than you would imagine even the brightest star could shine. In life, too, we had to rise to meet her. But her greatest and most exquisite act of bravery and generosity has been to 'normalise' her death. She's shown no fear, no bitterness, no self-pity, only armed us with the courage to go on and insisted that no one be sad, because she is happy," said Lewis. "I'm staggered by her," he added of McCrory. "She's been a meteor in our life."
Lewis announced McCrory's demise on Friday. "I'm heartbroken to announce that after an heroic battle with cancer, the beautiful and mighty woman that is Helen McCrory has died peacefully at home, surrounded by a wave of love from friends and family," he said on Twitter. McCrory has been honoured on social media since the news of her death by costars and friends, including Daniel Radcliffe, Helen Mirren, Jason Issacs, J.K. Rowling, Tom Felton and Cillian Murphy.
In addition to her film and TV roles, McCrory began her career on stage and appeared in more than 25 productions during the 1990s through the mid-2010s. Her stage credits included 'Macbeth', 'Pride and Prejudice', 'As You Like It', 'Medea', and many more. The 'Peaky Blinders' has also appeared in the James Bond film 'Skyfall', Martin Scorsese's 'Hugo' and played Cherie Booth, wife of U.K. Prime Minister Tony Blair, in 'The Queen' and 'The Special Relationship'.
} });
Arjun Rampal Shares Glimpse of His Quarantine Life With Fans (See Pic)
Bollywood star Arjun Rampal, who recently tested positive for the novel coronavirus, on Monday shared new pictures of him, giving fans a glimpse of his life under home quarantine. The Daddy actor took to his Instagram handle and shared pictures from his second day of quarantine, along with the caption, "Day 2 #quarantinelife #books #thoughts #contemplate #write #gettoknowme All of you out there stay smart, stay safe." Actor Arjun Rampal and Neil Nitin Mukesh Test Positive For COVID-19.
In the pictures, Arjun could be seen sporting a white T-shirt paired with grey lowers, while he sat holding a book in his hand and gazed into the distance.
Arjun had tested positive for COVID-19 on April 17 and is currently under home quarantine for recovery. The second wave of coronavirus has infected many people, and the number of COVID-19 positive cases has been rapidly rising. In Bollywood, an array of celebrities have got infected within a span of a few weeks. Arjun Rampal, Suniel Shetty, Raveena Tandon Have A Gala Time At J P Dutta's Daughter Nidhi's Three-Day long Wedding Ceremony (View Pics).
Check Out Arjun Rampal's Instagram Post Below:
Recently, Neil Nitin Mukesh, Sonu Sood, Manish Malhotra, Katrina Kaif, Akshay Kumar, Govinda, Paresh Rawal, Alia Bhatt, Ranbir Kapoor, and Rohit Saraf, among others had tested positive for COVID-19. Earlier, Amitabh Bachchan, Abhishek Bachchan, Arjun Kapoor, Malaika Arora, and some others were also infected with the virus. In March 2020, Bollywood singer Kanika Kapoor, who rose to fame with her song 'Baby Doll', became the first Bollywood celebrity to get infected with COVID-19. On the professional front, Arjun has an interesting line-up of projects in the pipeline which includes, 'Dhaakad' and 'The Rapist'.
//vdo (function(v,d,o,ai){ai=d.createElement('script');ai.defer=true;ai.async=true;ai.src=v.location.protocol+o;d.head.appendChild(ai);})(window, document, '//a.vdo.ai/core/latestly/vdo.ai.js');
//colombai try{ (function() { var cads = document.createElement("script"); cads.async = true; cads.type = "text/javascript"; cads.src = "https://static.clmbtech.com/ase/80185/3040/c1.js"; var node = document.getElementsByTagName("script")[0]; node.parentNode.insertBefore(cads, node); })(); }catch(e){}
} });