Meghan Markle On How Buckingham Palace Will React To Interview With Oprah Winfrey: How Could They Expect We Would Still Just Be Silent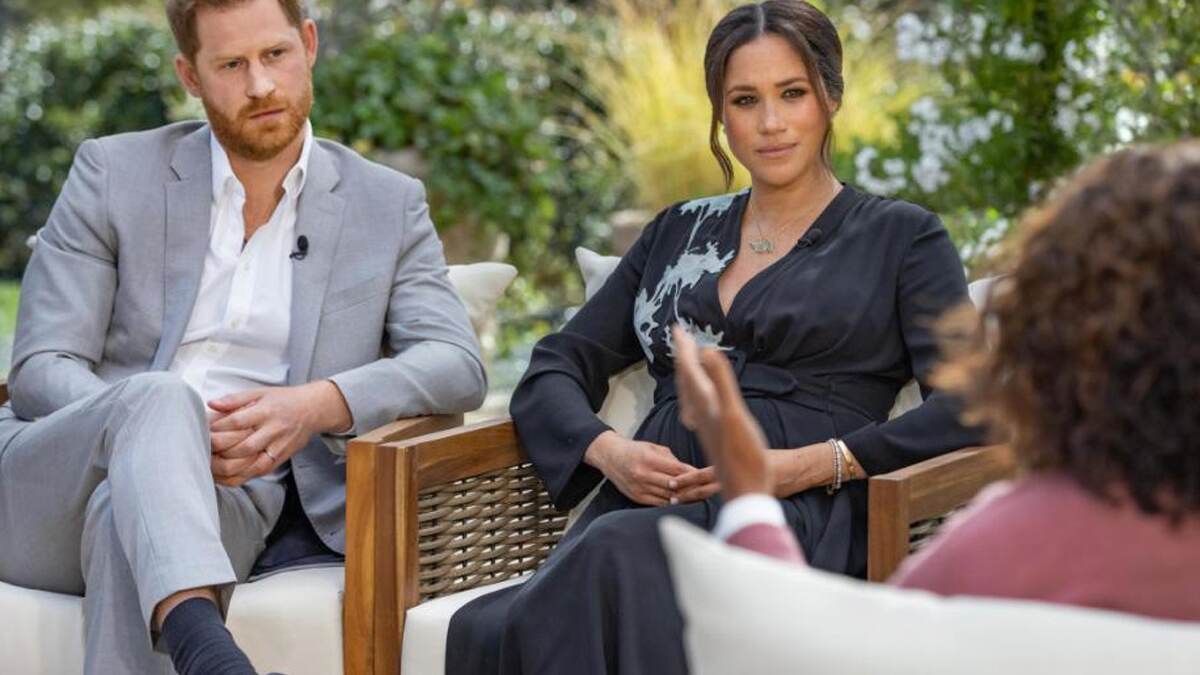 New York, March 8 (IANS) Meghan Markle told Oprah Winfrey that she was utterly unprepared for the "monster machine" of the British royalty when she married Prince Harry. Markle said she didn't "fully understand what the job was" when she, as an "American", waded into "the firm" – her description for the British royal family. Meghan Markle-Harry-Oprah Winfrey Interview: The Duchess Of Sussex Reveals Royal Family Had Concerns About 'How Dark Archi's Skin Might Be' (Watch Video)
Within the first 15 minutes of the hotly anticipated interview, Meghan revealed to Oprah that all she wants is to "go back to the basics" and that the reality of royalty wasn't something she was ever ready for.
Around the 40th minute, Markle told Oprah that the royal family was "concerned" that her child would have "dark skin".
Markle stopped short of saying who within Buckingham Palace was having these conversations with her or Harry. Disclosing that "would be very damaging to them", she told Oprah.
"That's what was really tricky over those past few years, is when the perception and the reality are two very different things," Meghan said.
"And you're being judged on the perception, but you're living the reality of it."
The interview has been filmed in a backyard garden setting, with Meghan in a flowing black dress with a splash of white near the top right shoulder.
Meghan also said that she never "looked up" her husband online and did not think it was necessary to crawl through research on Harry.
Clips released ahead of the on-air interview showed Meghan tearing into the royal family.
In the two-hour interview, Winfrey will also ask Meghan how she feels about Buckingham Palace "hearing you speak your truth today?"
"I don't know how they could expect that after all of this time we would still just be silent if there was an active role that the firm is playing in perpetuating falsehoods about us," Meghan said, in one of the promo clips that are circulating.
"And if that comes with the risk of losing things, I mean, there's been a lot that's been lost already."
Speaking about her first meeting with Queen Elizabeth II, Meghan told Oprah she practised curtsying minutes before and never expected that she would have to endure this level of formality as a "working royal".
The two-hour pre-recorded interview began airing on CBS in the US on Sunday at 8 p.m.
It will be broadcast in the UK on Monday night on ITV.
(The above story first appeared on Onhike on Mar 08, 2021 11:07 AM IST. For more news and updates on politics, world, sports, entertainment and lifestyle, log on to our website onhike.com).
//colombai try{ (function() { var cads = document.createElement("script"); cads.async = true; cads.type = "text/javascript"; cads.src = "https://static.clmbtech.com/ase/80185/3040/c1.js"; var node = document.getElementsByTagName("script")[0]; node.parentNode.insertBefore(cads, node); })(); }catch(e){}
} });
Disha Patani Flaunts Hourglass Perfection As She Poses in a Burnt Orange Fringed Bikini! (View Pic)
Actress Disha Patani showcases hourglass perfection in a new bikini snapshot she shared on Monday. Disha shared the picture on Instagram, posing on the beach in a burnt orange fringed bikini. Disha Patani in Red Calvin Klien Underwear Paired with Offbeat Crop Top Is a Feast for the Eyes! (View Pic).
The sunrays add an extra golden glow to her skin. She captioned the image with an octopus emoji. Disha Patani Flaunts Her Love for Calvin Klein Once Again and All We Want to Say Is 'Oh No, Not Again!'
Check Out  Disha Patani's Instagram Post Below:
 

View this post on Instagram

 
On the work front, Disha has started shooting for Ek Villain Returns along with John Abraham. She will also be seen in Radhe: Your Most Wanted Bhai a longside actor Salman Khan, and the Ekta Kapoor-produced heroine-centric drama KTina.
(The above story first appeared on Onhike on Apr 19, 2021 01:50 PM IST. For more news and updates on politics, world, sports, entertainment and lifestyle, log on to our website onhike.com).
Urvashi Rautela Recalls Working With Late Actor Vivekh in Her Upcoming Tamil Debut Film (View Post)
Actress Urvashi Rautela took to social media on Sunday to mourn the demise of Padma Shri actor Vivekh and recall her experience of working with him in her upcoming Tamil debut film. The first schedule of the film was shot in Manali last month. Urvashi shared a photograph with the late Tamil film actor on Instagram and a video where the two of them can be seen reading a script and practicing the dialogues. Rest In Peace Vivekh, Tamil Actor and Comedian Passes Away at 59 in Chennai Hospital.
Sharing the photo and video on Instagram, Urvashi wrote: "I will miss you forever my Padma Shri @actorvivekh sir. My experience of working with a legend like you in my debut tamil film is unforgettable. I'm so shocked by the loss. You cared for me & cared for the world. Your comic timing & dialogues. Your love for the trees. My heartfelt condolences to Vivekh sir's family, friends and fans. #RIPVivekh. I have some best memories of my life with you….Thank you sir for everything." Vivekh Passes Away at 59: Rajinikanth, Kamal Haasan, Suriya and Other Celebs Mourn the Loss of Veteran Actor.
Check Out Urvashi Rautela's Instagram Post Below:
Tamil film comedian and Padma Shri recipient Vivekh passed away on Saturday at a private hospital in Chennai. He was 59. Vivekh made his debut in 1987 in the film Manathil Urudhi Vendum directed by the late K. Balachander. He has acted in over 200 films and was awarded the Padma Shri in 2009 and the Kalaivanar award from the Tamil Nadu government.
(The above story first appeared on Onhike on Apr 19, 2021 01:22 PM IST. For more news and updates on politics, world, sports, entertainment and lifestyle, log on to our website onhike.com).
//colombai try{ (function() { var cads = document.createElement("script"); cads.async = true; cads.type = "text/javascript"; cads.src = "https://static.clmbtech.com/ase/80185/3040/c1.js"; var node = document.getElementsByTagName("script")[0]; node.parentNode.insertBefore(cads, node); })(); }catch(e){}
} });
Ranveer Singh: There Are No Failures in Life, Only Lessons
Bollywood star, youth icon, fashion icon, entrepreneur and actor. It's taken Ranveer Singh just over a decade to tick all those boxes and establish himself as an entertainment super brand who promises a maverick surprise, every time he hits the public gaze, on or off the screen. Ranveer's success as a celebrity lies in his ability to balance two very different aspects of being a new-age Bollywood star. He is equally at home cutting an impromptu eccentric picture — mostly highlighted by his irreverent sartorial choices for the media glare — as he is while showcasing well-prepared perfection while living his protagonist in films such as Bajirao-Mastani, Padmaavat and Gully Boy. Ranveer Singh Birthday Special: 5 Understated Performances of the Simmba Star That Make Him So Awesome.
Ranveer would tell you it is important for him to draw from life's experiences, in order to take his on-screen roles to the point of authenticity. "For each different character, one has to tap into one's own bank of experiences to make the portrayal truthful, visceral and honest. I deeply empathise with the underdog characters that I have played because I have been through a similar journey in my own life," says the actor. '83: Ranveer Singh, Deepika Padukone, Pankaj Tripathi's Sports Film To Release in Theatres on June 4!
He finds a special connect with Murad, his character in Gully Boy, as well as former Indian cricket captain Kapil Dev in the upcoming 83. For Ranveer, playing Kapil, who captained an underdog team to India's first-ever World Cup win in 1983, was about acting out a historic moment of triumph against all odds.
"There is a dialogue in Gully Boy that broadly translates from Hindi to, 'I refuse to change my dreams to match my reality, I will change my reality to match my dreams'. I have felt this sentiment deep down in my soul. When these characters have to prove themselves against all odds, I can relate to that struggle at a very profound level. In Gully Boy, Murad achieves the impossible. In '83', Kapil's devils achieve the impossible. I can lend truth to these roles because I've been there in my own journey. I feel their disillusionment, I feel their anger, their frustration, I feel their grit, all in a very intense way because I've been through it myself. I've felt it for real," he asserts.
Ranveer Singh arrived in Bollywood with the 2010 hit Band Baaja Baaraat, and by 2013 he had established his credentials as one of Hindi mainstream's most exciting new-gen stars, playing a modernday 'desi' Romeo in Sanjay Leela Bhansali's superhit romantic tragedy Goliyon Ki Rasleela Ram-Leela opposite Deepika Padukone. If Ranveer's career has only moved upwards since then, he can afford to look back at his struggling years with a note of contentment.
"At different points and in several instances during my struggling years, I felt like there was no hope. Getting one's foot inside the door of a largely exclusive entertainment industry seemed unachievable. But I persisted. You could say I was both hungry and foolish. More than anything, I believed in my abilities and in my potential," he recalls.
"Even back then, when I had nothing, the same driven, tenacious and meticulous work ethic was characteristic of my hustle. I was well aware of what a long shot it was. But I was willing to take that leap of faith. When there wasn't a good lead in sight for long periods, the phone wouldn't ring for months, my faith was challenged, but I debunked the idea that what I was trying to achieve was impossible. I stayed focused in the most testing of times. I almost forced the universe into making it happen for me," says the actor. "My single-mindedness and determination eventually paid off and my dream became my reality. Ever since, every day feels like I am living a dream," he adds.
A decade later, having established himself firmly on solid tinsel terrain, Ranveer is clear about his biggest learning. "When young actors, especially 'outsiders', come up to me seeking advice on how to navigate their hustle, the first and most important thing I tell them is 'do it for the right reasons'. Do it simply because you love performing. I urge them to not be lured towards performing arts or the entertainment business because success in this field comes with fame and money. Those are transient, they are frills — just trappings. So, I say, 'be true to your craft and do it for the love of and for the joy of performing'," says Ranveer.
"Another thing I learned along the way, is that authenticity has the most resonance. If you try being something that you are inherently not, you are doing a disservice to yourself. If you stay true to who you are, if you lose the fear of being judged, only then will you vibrate at a high frequency. 'You do you', I tell them. Be original, be your unique self. And another important thing I've learned is to keep taking risks. The bigger the risk, the bigger the reward. You may falter during that process, but I believe that there are no failures in life, there are only lessons," he adds.
Ranveer acknowledges the importance of getting the right break, and the fact that it can often become the defining factor for success in an unpredictable industry as showbiz, along with passion and hard work. "One can have the passion and grit and can even prepare endlessly for the moment that one gets to shine. But often, the missing piece of the puzzle is 'opportunity'. My hustle was as difficult as it was because of the sheer lack of opportunities. That's what I wanted to create for fellow dreamers. To provide the opportunity to young creators who were burning with passion. To give them a platform to showcase their talent. It is my way of giving back. It is my way of paying forward the blessings I have received. It is my way of showing gratitude to the universe," concludes Ranveer, who is part of a new campaign for Adidas.
(The above story first appeared on Onhike on Apr 19, 2021 01:05 PM IST. For more news and updates on politics, world, sports, entertainment and lifestyle, log on to our website onhike.com).
//vdo (function(v,d,o,ai){ai=d.createElement('script');ai.defer=true;ai.async=true;ai.src=v.location.protocol+o;d.head.appendChild(ai);})(window, document, '//a.vdo.ai/core/latestly/vdo.ai.js');
//colombai try{ (function() { var cads = document.createElement("script"); cads.async = true; cads.type = "text/javascript"; cads.src = "https://static.clmbtech.com/ase/80185/3040/c1.js"; var node = document.getElementsByTagName("script")[0]; node.parentNode.insertBefore(cads, node); })(); }catch(e){}
} });