KGF Chapter 2: Smoking Scene by Yash in the Film's Teaser Irks Karnataka's Health Dept
Even as the crew members of K.G.F. Chapter 2, an upcoming Kannada period action film written and directed by Prashanth Neel, are basking in the glory of its teaser receiving over 132 million views on YouTube since its release on January 7, the Karnataka health department has issued a show-cause notice to Yash, the lead actor of the film, who plays protagonist Rocky Bhai in the movie. The teaser has a scene where Yash blows up a row of automobiles with a machine gun and goes on to light a cigarette with the barrel of the red-hot gun. KGF Chapter 2: Raveena Tandon, Sanjay Dutt Love the Overwhelming Response on the Film's Teaser
According to the notice, as per the statutory requirement, it is mandatory to display a warning on the screen with the caption "Smoking is injurious to health", but neither the teaser nor the publicity posters display any such message. "Both the teaser and the posters encourage cigarette smoking," the notice stated and appealed Yash to take steps to remove this teaser from social media platforms. "Yash, you are a heart-throb and you have immense fan following. Your actions should not mislead the youngsters. We want you to join our campaign against cigarette smoking," the notice said. KGF Chapter 2: From Becoming the Most Viewed Teaser to Being the Most Expensive Kannada Film – 5 Interesting Fact About the Yash Starrer Action Film
Meanwhile, the scene in question has gone viral on social media and fans of Yash are sharing the screenshots of the scene. Soon after the teaser was out on various online platforms, the Karnataka State Anti-Tobacco Cell had taken exception to the visuals showing Yash lighting a cigarette. In its letter to the health department, the cell had contended that the visuals depicting the actor smoking a cigarette violated Section 5 of the Cigarettes and Other Tobacco Products (Prohibition of Advertisement and Regulation of Trade and Commerce, Production, Supply and Distribution) 2003, also referred to as COTPA 2003, and sought deletion of the teaser from online platforms.
"The actor has a large number of fans, particularly among the youth. If he smokes (on screen), people will emulate him. So, we are asking them to remove the teaser from the online platforms and also the posters of the movie," the letter had stated. A letter objecting the visuals in the teaser has been despatched to director Prashant Neel, Yash, producer Vijay Kiragandur, and the Karnataka Film Chamber of Commerce.
The cell, however, is not going to ask the filmmakers to take away the scene from the film. The film will release in Hindi, Tamil, Telugu, Kannada and Malayalam. "K.G.F. Chapter 1", which was released in 2018, had won two National Awards in 2019 for Best Action and Best Special Effects.
(The above story first appeared on Onhike on Jan 14, 2021 11:23 AM IST. For more news and updates on politics, world, sports, entertainment and lifestyle, log on to our website onhike.com).
//colombai try{ (function() { var cads = document.createElement("script"); cads.async = true; cads.type = "text/javascript"; cads.src = "https://static.clmbtech.com/ase/80185/3040/c1.js"; var node = document.getElementsByTagName("script")[0]; node.parentNode.insertBefore(cads, node); })(); }catch(e){}
} });
Chris Hemsworth Starts Shooting for 'Thor: Love and Thunder' in His Home Turf Australia (View Pics)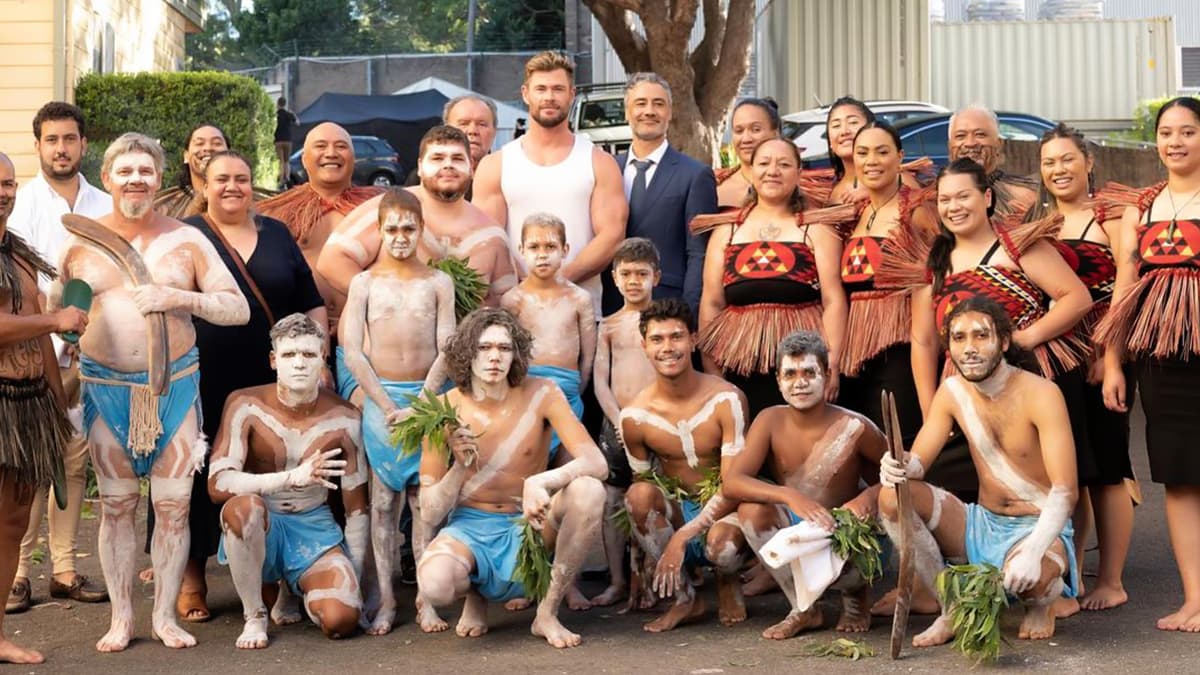 Hollywood star Chris Hemsworth has started shooting for the superhero adventure, Thor: Love And Thunder in his home turf Australia and he was greeted with a traditional Welcome to Country ceremony. Hemsworth, who is most popular for his superhero avatar of Thor, took to Instagram on Tuesday to share pictures of the ceremony. "A beautiful start to our shoot today with a Welcome to the Country ceremony from the Gamay dancers of the Gadigal and Bidiagal Nation and performance and karakia by Maori dancers from Te Aranganui," he shared. Chris Hemsworth Says Shah Rukh Khan's 'Bade Bade Deshon Mein' Dialogue and You Will Love It (Watch Video). 
The Melbourne-born actor continued: "Indigenous Australians may be just as proud of this country, but many see January 26th as a date signifying the beginning of dispossession, disease epidemics, frontier violence, destruction of culture, exploitation, abuse, separation of families and subjection to policies of extreme social control. Let's begin the healing and stand together in unity and support with our First Nations people with solidarity and compassion," he added. Spiderhead: Chris Hemsworth, Miles Teller And Jurnee Smollett To Star In Netflix's Film.
Check Out The Video:
In the pictures, he is seen with the film's director Taika Waititi. Thor: Love And Thunder is the fourth film in the Thor franchise. Waititi also directed Thor: Ragnarok, which made $854 million at the box office. The filmmaker will also voice the Kronan warrior Korg in the latest instalment.
Actor Chris Pratt is set to reprise his Guardians Of The Galaxy character, Star-Lord, in the upcoming films that also stars Natalie Portman, Tessa Thompson and Christian Bale. Plot details of the new Thor film have been kept under wraps. Stay tuned!
(The above story first appeared on Onhike on Jan 26, 2021 08:23 PM IST. For more news and updates on politics, world, sports, entertainment and lifestyle, log on to our website onhike.com).
//colombai try{ (function() { var cads = document.createElement("script"); cads.async = true; cads.type = "text/javascript"; cads.src = "https://static.clmbtech.com/ase/80185/3040/c1.js"; var node = document.getElementsByTagName("script")[0]; node.parentNode.insertBefore(cads, node); })(); }catch(e){}
} });
Priyanka Chopra Jonas Is a Glamazon As She Poses for Marie Claire Spring 2021's Latest Issue (View Pics)
The world loves Priyanka Chopra Jonas, as there's no one like her. Be it talking sense in each of her interviews, being a flag bearer of women empowerment, slaying it in the acting department to even making fashion pundits go wow with her style shenanigans, she's an inspiration to many out there. Currently, she is busy promoting her flick The White Tiger. However, amid this, she has shared a series of pictures on her Instagram as the cover girl of Marie Claire for its Spring 2021 issue and we are impressed! Priyanka Chopra Birthday Special: A Perpetual Red Carpet Glamazon, Eloquent and Exquisite, She Brings Her Own Sassy Spotlight!
The global icon in the photos can be seen opting for flashy colourful outfits. As we all know that spring is about stunning shades and we see PeeCee going the same route. From pretty pinks, striking red to tangy orange, the diva looks tempting in every look. However, our favourite is the one in which her hair is all gelled up and she poses in pink attire. All in all, we are loving Marie Claire's classic style palette here. Check out the pictures below. Met Gala Recap: When Priyanka Chopra and Her Fashion Tidings Snowballed Into a Fiesty, Fabulous and Fierce Fashion Avalanche!
Glamazon!
Gorgeous in Pink!
Scroll For Fashion Extravaganza! 
Sight to Behold!
If given a chance to score Priyanka's above looks, we would definitely give a 10/10 to her for looking this alluring on the mag cover and other photos. Priyanka for MC is styled by Joanna Schlenzka whereas her makeup is done by Ninni Nummela. Having said that, the attitude which PeeCee brings while posing as the cover girl is insane man. Kudos to her. Stay tuned!
(The above story first appeared on Onhike on Jan 26, 2021 07:05 PM IST. For more news and updates on politics, world, sports, entertainment and lifestyle, log on to our website onhike.com).
Bhabiji Ghar Par Hain Promo: Nehha Pendse as Anita Bhabhi Makes a Striking Entry in a Red Saree (Watch Video)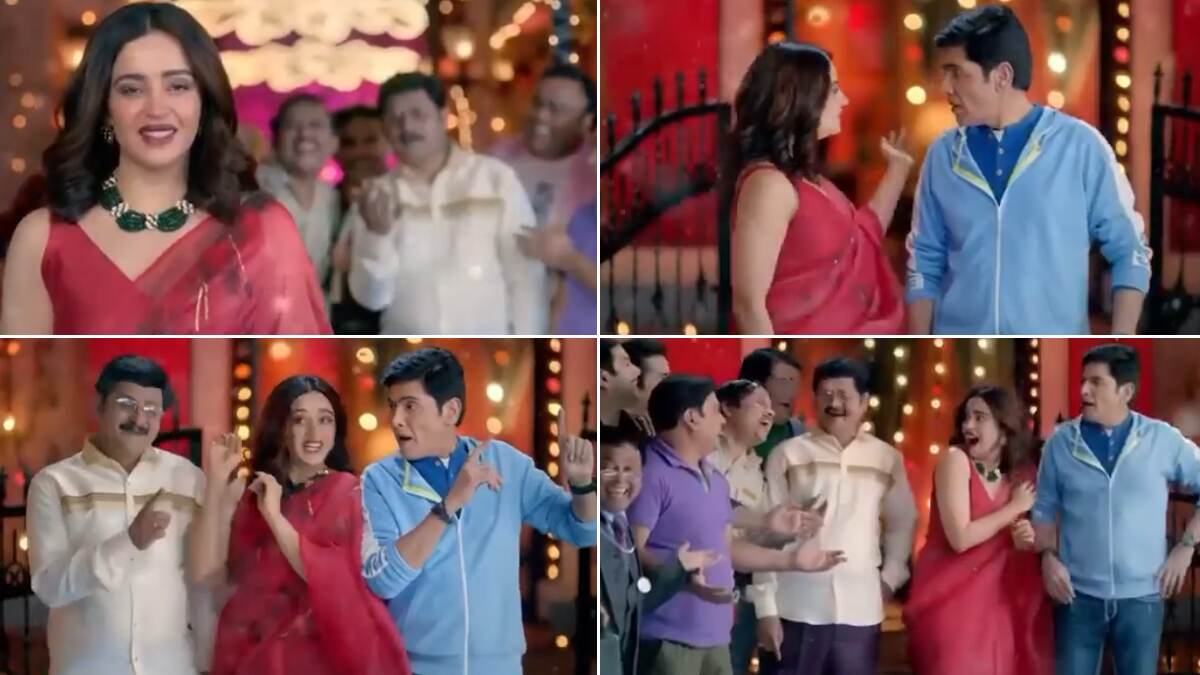 After Saumya Tandon said goodbye to &TV's hit sitcom Bhabiji Ghar Par Hain as Anita bhabhi, the makers were looking for a new face and locked Nehha Pendse as the new Anitaji. In fact, the actress also had started shooting for the comedy show a few days back. Now, finally, the makers have unveiled the first promo of Nehha as Anita bhabhi. The video is high on entertainment and sees Pendse looking alluring as the Gori Mem. In the clip, she can be seen wearing a red saree with sleeveless blouse. Bhabiji Ghar Par Hai: Nehha Pendse Finally Begins Shooting As Anita Bhabhi, Feels Elated!
The promo opens with Neha entering the society compound in an open rickshaw wherein the men of the colony go gaga over her beauty. The Bollywood music in the background adds quite a spice. All the characters in the video are happy on seeing Anita bhabhi. Apart from Neha, we also see Aasif Sheikh (Vibhuti Narayan Mishra), Shubhangi Atre (Angoori bhabhi) Rohitashv Gour (Manmohan Tiwari). Nehha Pendse on Replacing Saumya Tandon in Bhabiji Ghar Par Hain: I Would Request the Audience to Not Draw Any Comparisons. 
Check Out The Video: 
Indeed, the promo looks appealing and Nehha as Anita bhabhi also seems impressive. Having said that, earlier in a conversation with IANS, Pendse had expressed and urged fans to not draw a comparison between her and Saumya Tandon.
"I would like to request the audience that they should not draw comparisons between Saumya and me. They should give me the opportunity and time with open hearts to get into the character. We are trying to make a seamless transition in the show, so we expect audience cooperation. I would urge them to be kind towards us," she had said.
(The above story first appeared on Onhike on Jan 26, 2021 06:11 PM IST. For more news and updates on politics, world, sports, entertainment and lifestyle, log on to our website onhike.com).
//colombai try{ (function() { var cads = document.createElement("script"); cads.async = true; cads.type = "text/javascript"; cads.src = "https://static.clmbtech.com/ase/80185/3040/c1.js"; var node = document.getElementsByTagName("script")[0]; node.parentNode.insertBefore(cads, node); })(); }catch(e){}
} });