Ileana D'Cruz Confesses About Her Love for Beach, Shares Last Year's Vacation Pic from the Andaman Islands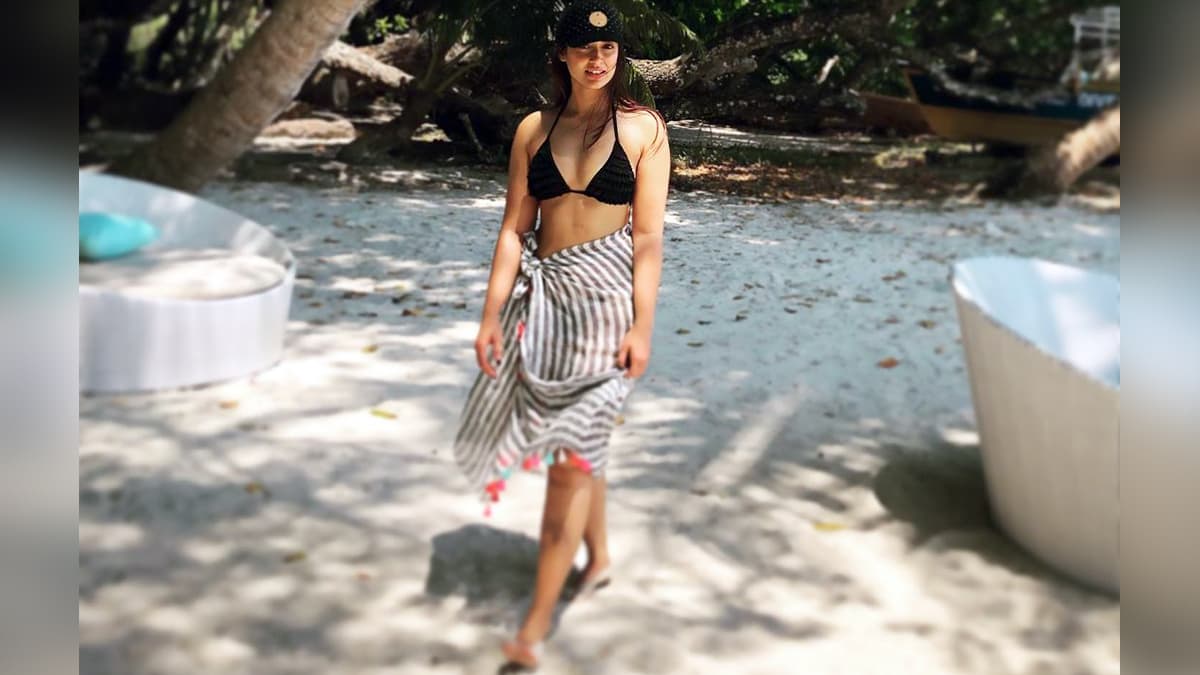 Bollywood actress Ileana DCruz on Thursday shared a twist of nostalgia from her holiday this time last year, in the process confessing she is a beach bum for life. Ileana posted the picture on Instagram Stories, where she is seen lying in a hammock wearing black swimsuit, against the backdrop of a blue sea. Ileana D'Cruz Shares Stunning Photo from Her Vacation at the Andaman Islands.
On the image, she wrote: "This time last year. #Beachbumforlife." The picture seems to be from her holiday last year in Andaman Islands. Ileana is currently all set to star in Unfair N Lovely, a comic take on India's obsession with fair skin. Ileana D'Cruz Birthday: Here's A Look At The Hottest Instagram Pics Of The Actress As She Turns 33!
Check Out Ileana D'Cruz's Instagram Story Below:
Ileana D'Cruz Instagram Story (Photo Credits: Instagram)
Set against the backdrop of Haryana, the film features Ileana opposite Randeep Hooda.
(The above story first appeared on Onhike on Feb 25, 2021 06:20 PM IST. For more news and updates on politics, world, sports, entertainment and lifestyle, log on to our website onhike.com).
//colombai try{ (function() { var cads = document.createElement("script"); cads.async = true; cads.type = "text/javascript"; cads.src = "https://static.clmbtech.com/ase/80185/3040/c1.js"; var node = document.getElementsByTagName("script")[0]; node.parentNode.insertBefore(cads, node); })(); }catch(e){}
} });
Aditi Rao Hydari Picks a Cute Red and Pink Co-Ord Set and We're all 'Hearts' For It (View Pic)
Aditi Rao Hydari is busy promoting her new release, Ajeeb Dastan on Netflix and the lady is picking some ravishing designs for the same. From monochrome separates to cutesy dresses, she had kept her style file extremely exuberant and even peppy at times. With the help of her ace stylist, Sanam Ratansi, she managed to strut in style while dropping some style bombs on us. And while the movie has already hit Netflix, Aditi's still busy dishing out some major style lessons. Aditi Rao Hydari's Chic Co-ord Set by Notebook Looks Effortlessly Stunning (View Pics).
For her recent #ootd, she picked a cute red and pink separates from the house of Apz and paired it with a matching red tube top. The sweetheart Mykonos co-ord set is a big hit with the brand and Aditi had smartly paired it with red heels. With her bob hair, red lips and extremely light makeup, she preferred to keep her look simple and breezy. An extremely charming outing, Aditi's co-ord set was perfect to flaunt for the ongoing season. Aditi Rao Hydari: With Every Film, I Feel like a Newcomer.
Aditi Rao Hydari
Aditi Rao Hydari (Photo Credits: Instagram)
Aditi has always been a delightful dresser, picking some vibrant hues and nailing them to the hilt. She rarely disappoints in the fashion department and we often find ourselves marvelling at her choices. We hope the actress continues to display her wardrobe in future and that she continues slaying like always.
(The above story first appeared on Onhike on Apr 18, 2021 05:52 PM IST. For more news and updates on politics, world, sports, entertainment and lifestyle, log on to our website onhike.com).
//colombai try{ (function() { var cads = document.createElement("script"); cads.async = true; cads.type = "text/javascript"; cads.src = "https://static.clmbtech.com/ase/80185/3040/c1.js"; var node = document.getElementsByTagName("script")[0]; node.parentNode.insertBefore(cads, node); })(); }catch(e){}
} });
Riz Ahmed's Sound Of Metal and Jamie Foxx's Soul Win Big at Cinema Audio Society Awards 2021
The 57th annual Cinema Audio Society Awards announced on Saturday that Amazon Studios drama Sound of Metal and Disney and Pixar's Soul won out in top categories. According to Deadline,'Sound of Metal was named Best Motion Picture – Live-Action, besting Mank (Netflix), 'Greyhound' (Apple TV+), 'News of the World' (Universal Pictures) and 'The Trial of the Chicago 7' (Netflix). 'Soul' won out on the Animated Motion Picture category, BAFTA Awards 2021: Priyanka Chopra Treats Fans With Breathtaking Red Carpet Avatar as She Slays in This Gorgeous Fish-Cut Black Outfit!
The wins give each of these films added momentum in the Oscars' new category of 'Best Sound', which combines sound mixing and sound editing for the first time. (Other nominees in the category include 'Greyhound', 'Mank' and 'News of the World'.) However, a victory at the CAS Awards can't be predicted as previous year year, 'Ford v Ferrari' won the CAS Live Action award but lost out at the Oscars in the Sound Mixing category to 1917. But, 'Ford v Ferrari did take the Sound Editing Oscar. Chloe Zhao's Nomadland Wins Big at Producers Guild of America Awards, Check Out the Complete Winners List Below.
'Sound of Metal' revolves around the story of Ruben essayed by Riz Ahmed, he plays a heavy metal drummer who spirals into crisis when he begins to lose his hearing. Ruben's character has been celebrated for its innovative use of sound throughout awards season, given the way in which it captures its lead character's point of view. As reported by Deadline, 'Soul' is the first animated film to receive an Oscar nom for sound since 2010's 'Toy Story 3'.
The Pixar film centres on Joe, essayed by Jamie Foxx. Joe plays a frustrated middle-school band teacher who is swept into a celestial realm known as The Great Before after a sudden accident separates him from his body. Joe does everything in his power to return to Earth so that he can realise his dreams of performing on stage as a jazz musician. Celebrating the year's outstanding achievements in sound mixing, Saturday's virtual CAS Awards also saw prizes bestowed on the 'The Mandalorian', 'The Marvelous Mrs Maisel', 'The Queen's Gambit', 'Hamilton', and 'Be Gees doc How Can You Mend a Broken Heart', with George Clooney receiving the honorary Cinema Audio Society Filmmaker Award.
At this year's ceremony, production sound mixer William B. Kaplan, CAS was honoured with the 'CAS Career Achievement Award', while a Student Recognition Award and two Outstanding Product Awards were also doled out. Kaplan's credits include nine films with John Landis (among them, 'Animal House' 'The Blues Brothers' and 'Coming to America'), many with Tony Scott (including 'Top Gun') and Robert Zemeckis (including 'Back to the Future', 'Forrest Gump' and 'The Polar Express') as well as James Cameron's 'Avatar.'
Check out the complete list of winners below.
MOTION PICTURE – LIVE ACTION
Sound of Metal
Production Mixer – Phillip Bladh CASRe-Recording Mixer – Jaime Baksht SegoviaRe-Recording Mixer – Michelle Couttolenc EsparzaRe-Recording Mixer – Carlos Cortes NavarreteFoley Mixer – Kari Vahakuopus
MOTION PICTURE–ANIMATED
Soul
Original Dialogue Mixer – Vince Caro CASRe-Recording Mixer – Ren KlyceRe-Recording Mixer – David ParkerScoring Mixer – Atticus RossScoring Mixer – David Boucher CASADR Mixer – Bobby Johanson CASFoley Mixer – Scott Curtis
MOTION PICTURE–DOCUMENTARY
The Bee Gees: How Can You Mend A Broken Heart
Re-Recording Mixer – Gary A. Rizzo CASRe-Recording Mixer – Jeff King
TELEVISION SERIES – 1/2 HOUR
The Mandalorian: Ep. 102 Chapter 2: The Child
Production Mixer – Shawn Holden CASRe-Recording Mixer – Bonnie WildRe-Recording Mixer – Stephen UrataScoring Mixer – Christopher Fogel CASADR Mixer – Matthew WoodFoley Mixer – Blake Collins CAS
TELEVISION SERIES – 1 HOUR
The Marvelous Mrs. Maisel: S3, Ep. 8 "A Jewish Girl Walks Into the Apollo…"
Production Mixer – Mathew Price CASRe-Recording Mixer – Ron Bochar CASScoring Mixer – Stewart LermanADR Mixer – David BoultonFoley Mixer – George A. Lara CAS
NON-THEATRICAL MOTION PICTURE OR LIMITED SERIES
The Queen's Gambit: Ep. 4 "Middle Game"
Production Mixer – Roland WinkeRe-Recording Mixer – Eric Hoehn CASRe-Recording Mixer – Eric HirschRe-Recording Mixer – Leo MarcilScoring Mixer – Lawrence Manchester
TELEVISION NON-FICTION, VARIETY or MUSIC SERIES or SPECIALS
Hamilton
Production Mixer – Justin RathbunRe-Recording Mixer – Tony VolanteRe-Recording Mixer – Roberto FernandezRe-Recording Mixer – Tim Latham
CAS CAREER ACHIEVEMENT AWARD
William B. Kaplan, CAS
STUDENT RECOGNITION AWARD
Brandyn Johnson
OUTSTANDING PRODUCT – PRODUCTION
SOUND DEVICES, LLCCL-16 Linear Fader ControlSurface for 8-Series
OUTSTANDING PRODUCT – POST-PRODUCTIONIZOTOPE, INC. RX8. (ANI)
Sonakshi Sinha Shares Throwback Selfie to Describe Her 'Sunday State of Mind'
Bollywood actress Sonakshi Sinha has shared a picture and is confused as to call it a Sunday selfie or Sunday state of mind. Sonakshi posted the picture on Instagram, where she is seen looking into the camera and posing. She is wearing a blue tie-dye ensemble paired with a silver neck piece. She completed her look with orange-tinted lips. "#SundaySelfie or #SundayStateofMind. You decide," she wrote as the caption. Sonakshi Sinha's Latest Post Stresses on Importance of Wearing Masks in a Quirky Manner (View Pic).
The actress was last seen on screen in the 2019 Salman Khan starrer "Dabangg 3". Her upcoming projects include "Bhuj: The Pride Of India", which also stars Ajay Devgn, Sanjay Dutt, Sharad Kelkar, Ammy Virk, Pranitha Subhash and Nora Fatehi. The story is set against the backdrop of the Indo-Pak war of 1971. Sonakshi Sinha: As Celebrities, I Feel We Can Make a Difference Because We Have a Voice.
Check Out Sonakshi Sinha's Instagram Post Below:
Sonakshi, daughter of actor-politician Shatrughan Sinha, recently announced her other upcoming project "Bulbul Tarang", which will have an OTT release. She is also gearing up for her web series debut in "Fallen", which casts her as a cop.
(The above story first appeared on Onhike on Apr 18, 2021 05:25 PM IST. For more news and updates on politics, world, sports, entertainment and lifestyle, log on to our website onhike.com).
//vdo (function(v,d,o,ai){ai=d.createElement('script');ai.defer=true;ai.async=true;ai.src=v.location.protocol+o;d.head.appendChild(ai);})(window, document, '//a.vdo.ai/core/latestly/vdo.ai.js');
//colombai try{ (function() { var cads = document.createElement("script"); cads.async = true; cads.type = "text/javascript"; cads.src = "https://static.clmbtech.com/ase/80185/3040/c1.js"; var node = document.getElementsByTagName("script")[0]; node.parentNode.insertBefore(cads, node); })(); }catch(e){}
} });